The Roselle M. Hunter Local History Room, located on the lower level of the Herbert Wescoat Memorial Library, is comprised of a broad spectrum of genealogical resources, including: census data, county records, cemetery books, military rosters, how-to books, newspaper archives and family histories. It is open for unrestricted use by the public during normal business hours: Monday - Thursday, 8:30 - 7:00 p.m.; Friday, 8:30 - 5:00 p.m.; and Saturday, 8:30 - 12:30 p.m. The library is closed on Sundays and selected holidays.
The local history room has one microfilm reader/printer available for public use. Copies of microform documents cost $.20 per page. There is a public photocopier located outside the local history room. Each copy from the photocopier costs 10 cents per page.
Materials from the local history room do not circulate and are not available for interlibrary loan.
Since the local history room is not staffed by genealogical librarians, the library is not equipped to provide research. For assistance with genealogical research, please contact a professional genealogist.
For more information, please contact HWMLgenealogy@outlook.com.
For additional local history and genealogical information, please contact the Vinton County Historical Society, P.O. Box 306, Hamden, OH 45634 or phone (740) 596-0253 (Alice's House), (740) 596-5706 or 596-4349.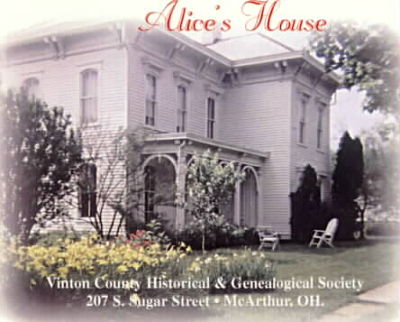 Microfilm Collection
     Census Records and County Dates
Athens County: 1820, 1830, 1840, 1850, 1860, 1870.
Gallia County: 1820, 1830, 1840,1850, 1860, 1870.
Hocking County: 1820, 1830, 1840,1850, 1860, 1870.
Jackson County: 1820, 1830, 1840,1850, 1860, 1870.
Ross County: 1820, 1830, 1840,1850, 1860, 1870.
Vinton County: 1850, 1860, 1870, 1880, 1900, 1910. 
Vinton County, named for Samuel Finley Vinton (who was a 19th century US Congressman from Ohio), was formed in 1850 from Athens, Gallia, Hocking, Jackson, and Ross counties.
     Newspapers
Vinton County Republican 4/13/1850 - 8/19/1852 
Vinton County Flag 8/26/1852 - 8/19/1853 
McArthur Republican 12/10/1852 - 12/9/1853 
McArthur Democrat 9/2/1853 - 12/2/-1865 
Mineral Region Herald 4/17/1856 - 5/29-1856 
McArthur Journal 12/24/1857 - 1/15/1863 
McArthur Register 4/23/1863 - 10/26/1865 
Vinton Record 1/4/1866 - 12/26/1895 
Democrat Enquirer 1/24/1867 - 1/15/1873 
McArthur Enquirer 1/22/1873 - 1/9/1884 
Hamden Enterprise 1/1880 - 1/1902 
Vinton County Democrat 8/11/1881 - 11/29/1883 
McArthur Democrat Enquirer 1/17/1884 - 12/26/1968 
Vinton County Republican 1/11/1894 - 2/29/1912 
McArthur Republican Tribune 5/7/1912 - 12/3/1971 
Vinton County Courier 8/4/1971 - 12/28/1994 
Athens Messenger 1/1990 -  
Miscellaneous
V.C. Commisioners' Journal Index 1850 - 1908 
Index to the Civil War Roster  
Ancestry.com (Patrons can only access this site from the library.)